BigCommerce announces partnership
with rb2 in The Netherlands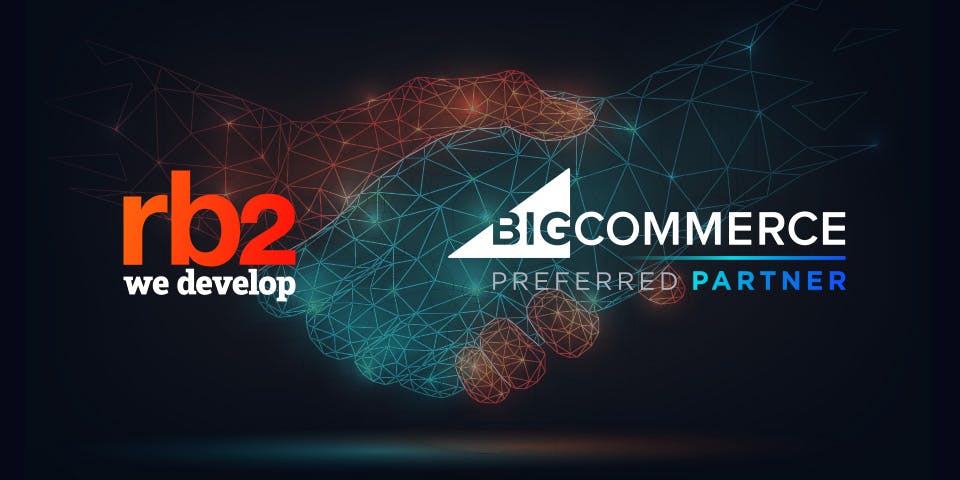 BigCommerce announces partnership with rb2 in The Netherlands
Purmerend, 20 December 2021 - BigCommerce, a global e-commerce SaaS provider announces its partnership with BigCommerce prefered partner rb2, a technical development agency from the Netherlands. The appointment of rb2 as a strategic technical partner supports BigCommerce's ambitious growth plans in the Netherlands, where the global SaaS company is currently building a local team and strengthening its partner network. 
As part of this collaboration, BigCommerce and rb2 work closely together to help Dutch merchants to take the next step in their e-commerce journey. Based on the BigCommerce open and flexible SaaS e-commerce platform, rb2 takes care of the complete technical implementation and fully tailors the development projects to the specific use cases of joint customers. "We love to translate business ambitions into future proof technical solutions. We stand beside our customer and guide the project from the Netherlands and develop and implement with our teams located in Europe, Asia and Africa. rb2 is one of the early movers in the headless commerce space and has thorough knowledge and experience in the field of subscription commerce", said Jeroen van Mierle, sales at rb2.
Joint activities include webinars and a podcast series, aiming to explain how Dutch merchants can get the most out of a modern commerce platform that drives value for their business and customers. In addition, 8 consulting and technical team members from rb2 are currently getting trained and Certified on the BigCommerce platform. This will enable rb2 to become a BigCommerce Certified partner and act as a trusted BigCommerce specialist to Dutch customers.
"From the earliest conversations with the rb2 team, it was clear there was an alignment of values between our two organizations" said Daniel Fertig, VP of Agency Partnerships for BigCommerce. "The rb2 focus on successful client outcomes shines through in how they approach and deliver on each engagement."
"From day one, BigCommerce has shown that they really know what merchants need and are looking for. And although they are a large global company that has been around for over a decade, the BigCommerce team has remained very approachable, passionate and personal. For rb2, BigCommerce fits perfectly into the tech stack of the e-commerce, subscription and loyalty platforms that we build for many of our customers, including Europarcs and Lavazza. We are excited to partner with an extremely knowledgeable and passionate SaaS like BigCommerce," said Dennis van Marle, CEO at rb2.
"Our visions on the future of e-commerce platforms align perfectly. We both strongly believe in the MACH architecture as the way forward in designing and implementing modern, flexible tech stacks for customers. As partners, we aim to minimise complexity with an approach based on a SaaS, headless, API first for maximum flexibility and customisation. We believe that we found our true technical counterpart in BigCommerce and feel that our common technological views will be the foundation of a great, long-term collaboration," concluded Richard Birksteiner, Founder and CTO at rb2.
About BigCommerce
BigCommerce (Nasdaq: BIGC) is a leading software-as-a-service (SaaS) ecommerce platform that empowers merchants of all sizes to build, innovate and grow their businesses online. As a leading open SaaS solution, BigCommerce provides merchants sophisticated enterprise-grade functionality, customization and performance with simplicity and ease-of-use. Tens of thousands of B2B and B2C companies across 150 countries and numerous industries use BigCommerce to create beautiful, engaging online stores, including Ben & Jerry's, Molton Brown, S.C. Johnson, Skullcandy, Sony and Vodafone. Headquartered in Austin, BigCommerce has offices in San Francisco, Sydney and London. For more information, please visit www.bigcommerce.com or follow us on Twitter, LinkedIn, Instagram and Facebook.
BigCommerce® is a registered trademark of BigCommerce Pty. Ltd. Third-party trademarks and service marks are the property of their respective owners.