Always the best solution for the question
from technology and process
rb2 introduces: the Integration Layer (IL)
Customers want the best user experience. Your digital e-commerce, loyalty and subscription platforms need to evolve constantly so you can keep delivering the speed, individualization and reliability that users need.
To achieve the best user experience and to give your business the best return and results, you need more than just implementing the best technology and most innovative applications. Set yourself up for success and leverage all your front- and back-end services using an integration layer. Allow your existing systems, tools and applications to communicate and take the growth of your business to a whole new level.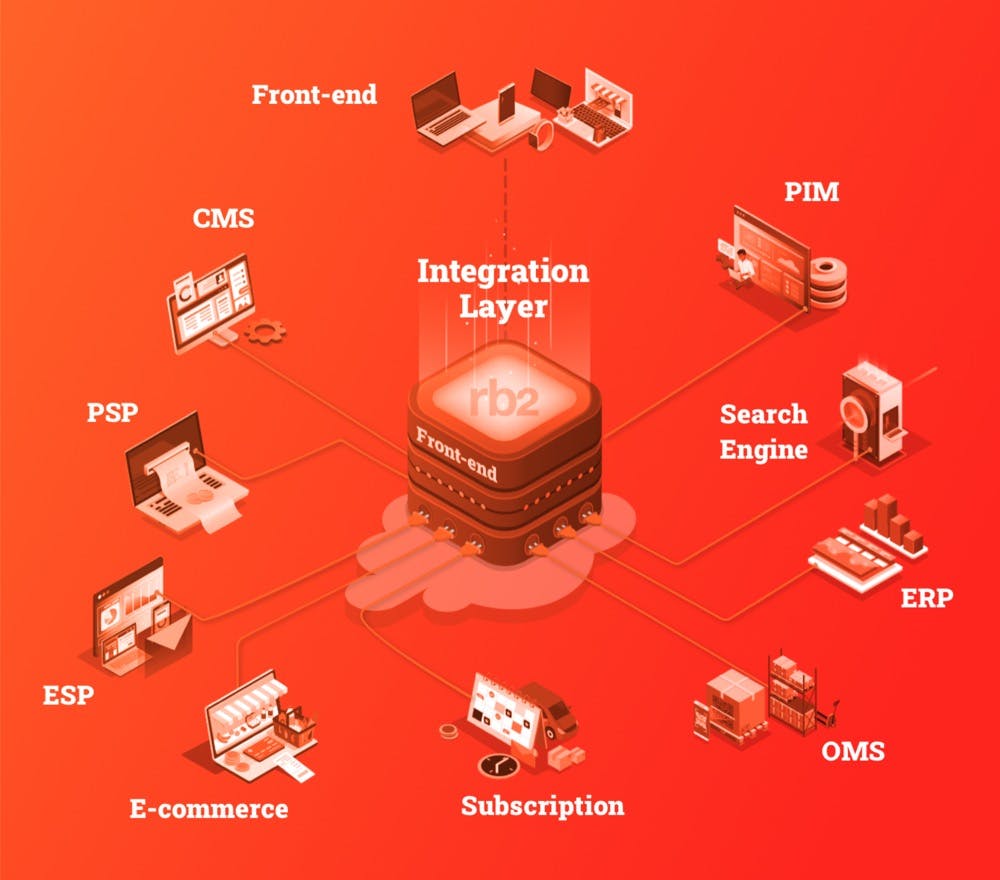 Integration is the key to unlocking everything your tech stack can bring
Integration layers are the solution to make all your systems, tools and services work as one. Build these layers between your front-end and back-end applications and enable communication, setup policies and share data right from the start. Go beyond the API libraries that you get out-of-the box and design and implement the integration layer that will help your platform excel.
Integration
Integrate your [headless] front- and back-end systems with your key applications, tools and services like commercetools, Zuora, Contentful or Mollie. Connect them effectively and remove the need to replace existing solutions in your tech stack or to write new code every time one of your applications, policies or requirements change.
Event-driven
Using this architectural pattern, developers can build distributed, highly scalable, available, fault-tolerant, and extensible systems by using industry-standard frameworks and cloud platforms.
Compatibility
Build the right integration layer for your tech and services landscape. Never worry about adding new PIM, OMS, CMS, PSP and Search services due to possible compatibility issues. We design and develop the 'glue' that makes your services connect, communicate and work FOR you, not against you.
API (done right)
The ability for organizations to build a layer of APIs from third-party best vendors and applications built internally. By allowing all of the data and functionality to be accessed over a clean API layer, retailers, brands can then 'compose' rich immersive experiences on any device.
"Would you like to know more about rb2 and what we can do for you?"
Give me a call to discuss further: